---
Things Coming Up
DATE CHANGE!!! – from Sept 23 to Sept 30 due to heavy rain expected to drown us out! Oktoberfest from 12 noon to 4 p.m. in the back of our property. Bring friends & Neighbors!
Look for the signup sheet on Sunday to help out!
---
✛THIS WEEK✛ 
Altar Flowers – Sunday's altar flowers are placed by Nancy Ebert celebrating what would have been her 66th wedding anniversary with her dearly beloved Phil resting with his Savior. If you wish to honor/ remember a special someone(s) with altar flowers, please sign up on the Flower Chart in hallway outside Library. Each bunch is $20; please write "flowers" on your check. 
SUNDAY – 8:15 AM: Choir Rehearsal; Adult Bible Study and Handbells: 9:15 a.m.; Divine Service: 10:30 a.m.
Tuesday Bible Study – 1 p.m. in the Mueller Room
Prayer Shawl – Handmade Prayers meets the 2nd Wednesday of each month at 10 a.m. in the Mueller Library.
Men's Breakfast Bible Study – The group meets on Thursday via Webex at 8:00 a.m. to study the Lectionary readings for the upcoming Sunday. For more information email Dan Good.   
---
✛FELLOWSHIP✛ 
Concordia Member Photos have been taken and mounted on the boards in the Narthex. Many thanks to Scott McCarter for his photographic services.!!
Saturday Morning Fellowship Group – Bring your own beverage! Snacks are welcome, never obligatory. Join the group for fun and chatter. SATURDAY mornings at 9 AM. Of course, you should bring neighbors and friends! The door opens at 9:00AM! 
MEMBERS who live in 'Assisted Living' Facilities – Can you spend 15 minute to be the feet and hands of Jesus? Write a card or note, make a phone call, or a short little visit to one of those below. It makes them smile to be remembered. 
-Jackie Scheetz – Harbor Chase – lives at 2004 Shipley Rd. Jackie has moved to room 126 NOT 131A in Memory Care  to increase staff attention. You may phone 302.273-8630 and staff can get her to the phone or her bedside phone. 
-Linda Blancett – Sunrise – 2215 Shipley Rd  302.358-2225.  
-Tracy Clarke – Foulk Manor North – 1212 Foulk Rd. 
---
✛EDUCATION✛
Lutheran Talk and Music App – You can listen to Lutheran talk and music 24/7, anytime, anywhere with the free Lutheran Public Radio app.  You can download for your cell phone at the App Store, Google Play or at issuesetc.org. Or, go to their mobilized websites: issuesetc.org and lutheranpublicradio.org.
Sunday School – Age-appropriate classes meet throughout the building.
Sunday Adult Bible: Meets in the Mueller Room at 9:15. We are reading Matthew. 
Weekday Bible Study – We meet on Tuesdays at 1:00 PM with Pastor Dave.  We are reading Ezekiel. 
Men's Breakfast Bible Study – The group meets on Thursday at 8:00 A.M. to study the readings from the lectionary for the coming Sunday. For more information contact Dan Good. 
---
✛SERVICE✛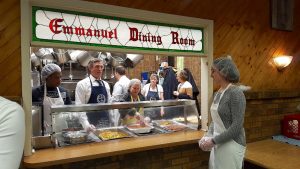 Emmanuel Dining Room -Faithful servants,
The Apostle Peter wrote in his first letter, chapter 4, verse 10: "Each of you should use whatever gift you have received to serve others, as faithful stewards of God's grace in its various forms." What a great stewardship message at that time, and for us today.  To all the casserole cooks, brownie bakers, and Dining Room servers, it is always clear that your hearts belong to Jesus.  You have given Him your hands to do His work, and your feet to follow His path.  And you speak His truth in showing your love.
On Sunday, August 27th, Concordia Lutheran Church had the privilege of serving 215 good men, women, and children at the Emmanuel Dining Room.  And special thanks to Don Kummer and Beth and Murray Dingwall for serving in the Dining Room this month.            
Blessings to all,
George and Dale 
Help feed the hungry by making a casserole or brownies for EDR!  Recipe (Click).  
Orphan Grain Train – OPPORTUNITY! The Mid Atlantic Branch of Orphan Grain Train is searching for a mission oriented, experienced management type person to assume leadership of the Mid Atlantic Branch of Orphan Grain Train.****
 Help us bring Christ's name and character to suffering people around the world and donate new or gently used clothing in good condition. Our Mid-Atlantic Branch, in conjunction with thirty other locations around the US, ships material aid wherever it is needed. Everyone is welcome to volunteer with us at the West Grove warehouse on the following dates. 
-The Second and Fourth Saturday of the month from 9 a.m. – 1:30 p.m.
-Wednesdays  September 27 from 10:30 a.m. – 2:30 p.m.   October 4,11,18 & 25
We work at the warehouse next to the Dansko outlet in West Grove: 8 Federal Rd, West Grove, PA, 19390. Read all about OGT on the bulletin board by the library, or visit our webpage for hours of operation, the latest updates, and to review the full list of materials our recipients need most. If you have questions, please contact Tom Fuesler or Carla Niesen. Donated items may be placed in the closet in All Saints' Hall (to the right as you enter the room).
OGT NEWS FLASH  see our website under 'SERVICE'   Loving our Neighbors!  Hard to imagine how exciting it is for those who receive our 'throw aways / I don't need this anymore' possessions. We are so blessed.
Meals on Wheels – Serving our community meals during the last full week of each month (September 25 - 29, 2023). The time commitment is usually 1 ½ hours (11:00 AM-12:30 PM). Please contact Susan Fuesler. Meals are picked up at Silverside Church with directions for delivery route. Please consider volunteering; you will bless others and be greatly blessed as well! Contact Sue Fuesler.
Handmade Prayers – Prayer Shawl Ministry meets the 2nd Wednesday of each month at 10:00 A.M. (October 11) in the Mueller Library. This is a working meeting so bring your yarn projects! We welcome anyone that is interested in crocheting or knitting to join us.  If you know someone that is in need of a gift from us, please let us know. For more details, contact Lynn Good.
---
✛STEWARDSHIP✛
Online Giving is Available – Click HERE. Let us thank Jesus that He continues to provide for us! Offerings can be set up through your bank or your credit card. Questions related to financial giving can be addressed to financialsec@concordiade.com     
Thought to Ponder
Parents play a critical role in young adult faith development and [church] retention. Parents remain the number one person who impacts the faith lives of young people. Nearly 1 in 3 young adults listed a parent as one of the most influential people in their lives. While that influence was usually positive, those who left the LCMS were more than twice as likely to say a parent had a negative influence (13% vs 5%). Today's Active LCMS young adults were the most likely to see a high level of faith practiced by their parents. This included frequent Bible reading at home, praying as a family, regular church attendance of both parents together (continuing even today), and at least one parent having a service or leadership role in the church.  excerpted from LCMS study of youth church presence 
Mail from Ministry of Caring:  "As we re-open our Distribution Center (destroyed by Hurricane Ida three years ago), we could use your donations of canned or boxed foods, new socks for men, women and children, and new underwear for men."   ca///email Priscilla at prakestraw@ministryofcaring.org  302.652-5523 if you can help.
---
CALENDAR 
(or Click HERE for monthly view)    
---
✛Pray✛
Lord, preserve Your gift of marriage against the ravages of sin, the schemes of the devil and the raging of the world. Bless the couples and families of our congregation. Strengthen them in love and care for one another and establish them on the foundation of Your Word. 
Almighty and merciful God, we call to mind before You all those whom it would be easy to forget (not see): the homeless, the destitute, the sick, the aged, and all who have none to care for them.  Help us to really SEE those you place in our path and fill us with Your kindness and love to share.
Father, we pray for Your special intervention concerning those who try to bring fear and violence into our lives, especially the lives of our young people on college campuses, high school, and other places of higher eduction. Thwart the plans of evil people and use such situations to draw us closer to You, Your Word and to Each Other.
O, let the Son of God enfold you with his Spirit and His Love. Let him fill your heart and satisfy your soul. O let Him have the things that hold you, and His Spirit like a dove will descend upon your life and make you whole. Lead us in the paths of righteousness, be my aid when Satan and sin oppress. I am putting all my trust in Thee.        
Come HOLY SPIRIT fill our church with fire and zeal for your Word. Send us forth with joy to share Your love and Your gospel.                
Help me treat others the way I enjoy being treated.